IELTS Preparation: Getting the bands' score you need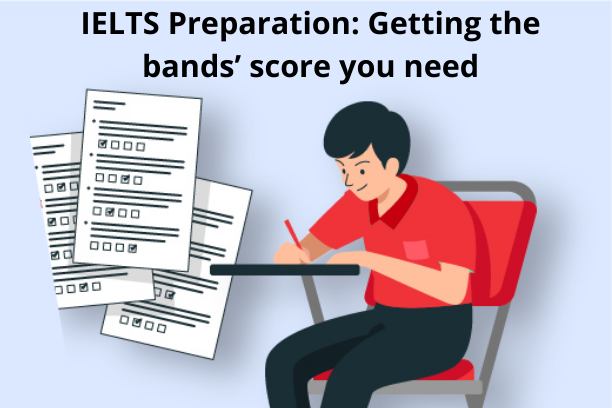 Unique Academy Canada is one of the Alberta's leading Best IELTS Academies to Score 8+ Bands' In Canada. We give comprehensive IELTS preparation and instructions so that you can ace the exam. We also offer quality IELTS study materials and suggestions to help you for your IELTS Bands Score in the very first attempt.
The first step is to learn how to obtain a level 8+ by reading the band's descriptors. You need 89 percent of the marks in hearing and reading to earn an 8+ bands' score. Because the IELTS reading and hearing sections each have 40 questions, you must answer at least 36 of them to achieve 8 bands.
As an international student, if you achieve 8 bands or higher, some courses, such as law or literary degrees, may demand 8 bands, but the score is good enough to help you gain admission to any university programme, even Ivy League institutions. Before we look at how to obtain 8 Bands, let's have a look at how the overall bands score is computed.
If these are your Task 1 results, then
Task completion – 8 bands
8 Bands: Coherence and Cohesion
7 Bands  lexical resource
7  Bands: Grammatical Range and Accuracy
These four numbers are summed up and split by four.
(8+8+7+7) ÷ 4
⇒ 30 ÷ 4 = 7.5
Consider the following scenario: your Task 2 essay received bands score;
Task completion – bands 7 
Bands Coherence and Cohesion Bands 7 
Lexical Resource Bands 7: 
Grammatical Range and Accuracy 6 
Add these figures together and divide by four.
(7+7+7+6) ÷ 4 
⇒ 26 ÷ 4 
= 6.75
However, because there is no such score as 6.75, the overall Task 2 score will be reduced down to 6.5.
To get the Overall Bands Score, add the four primary scores together and round to the closest whole or half bands. The Listening, Reading, Writing, and Speaking assessments each have four components, each of which is weighted equally.
If the average of the 4 segments is less than.25, the Total Bands Score will be apprehended towards the next whole bands, and if it is more than.75, it will be gathered towards the next whole bands. If the average score is a fraction less than.25 or.75, the aggregate ranking will be rounded to the nearest.          
Each section of the exam is given a bands score, and the quantitative measurements, Reading, Writing, and Speaking—are put together and averaged to provide an overall IELTS score, each of which is weighted equally.
One of the most typical problems people have when trying to improve their writing bands score. 
8 Bands in Listening
An audio recording will be presented to you during the IELTS Listening test, and you will be asked questions focused on what you understand from the dialogue. This test will consist of 40 questions divided into four sections, each with ten questions.
8 Bands in Reading
You will read several texts and then perform a set of tasks for each text on the Reading test. This test will likewise contain 40 questions and be divided into three portions with various question categories.
If you want to get 8 Bands  in Reading, keep track of the words count.
8 Bands in Writing
If you want 8 Bands in Writing, you'll need to answer both questions with the required words count.
The response should be organised.
Make sure you don't misspell anything.
A diverse vocabulary that avoids using the same phrases repeatedly,
use less often used words, complex statements without errors and no typo errors.
8 Bands in Speaking
The speaking section of the test is scored similarly, with Pronunciation replacing Task achievement and Fluency replacing Coherence and coherence. The accuracy and flexibility with which you employ acceptable words will be used to evaluate your lexical resource.
If you're interested in improving your IELTS score, our award-winning In-person And Online Coaching For IELTS Classes In Edmonton is designed to help you reach your highest possible level of achievement. Unique Academy Canada expertly trained and accredited instructors will guide you through your IELTS test from the initial preparation to the actual test itself.
This is an extremely crucial question. How you prepare for your test will be determined by the answer to this question. You must select whether or not to enroll in an IELTS preparation course and how much time and energy you will devote to preparing before the test. IELTS Bands Score criteria vary by asking organisation, however, they are often greatest for linguistically rigorous academic programmes and lowest for immigrants and refugees and for less demanding employment.