IELTS vs. CELPIP. Which test is easier?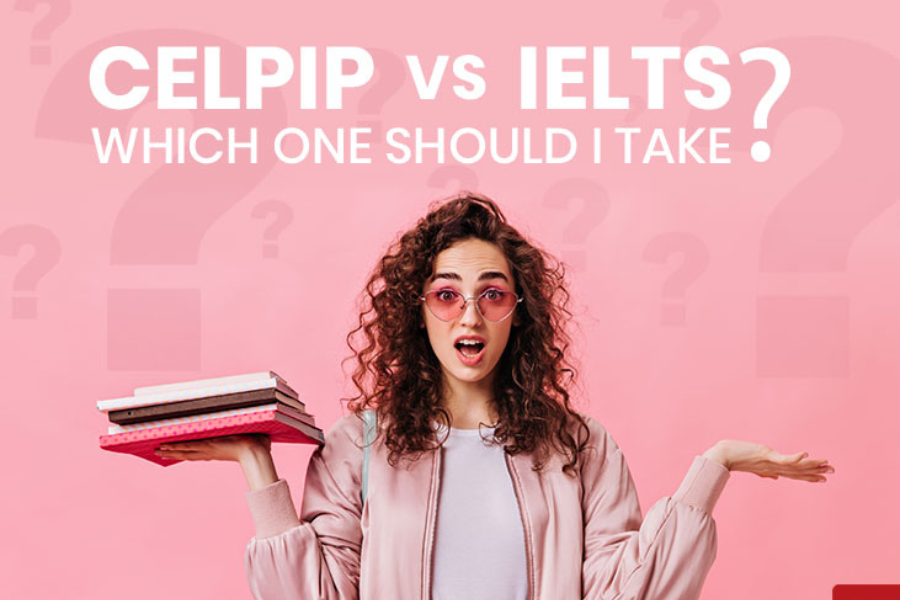 If you don't have the necessary materials, studying for an English test can be difficult.
It's very understandable if you're perplexed. Because getting started with your immigration plans entails learning a slew of new rules, numbers, and letters all at once.
The IELTS Academic Reading and Writing is designed to provide you with the maximum amount of practice and guidance in the two key areas that will determine your score: reading comprehension and writing.
We'd like to assist you in breaking things down! Keep it simple in the Best IELTS in Canada The most common two English proficiency examinations recognised by Immigration Canada are these two.
CELPIP :- CELPIP stands for Canadian English Language Proficiency Index Program. It's an English language competence test with a single North American accent and Canadian material. It is required for Canadian immigration and various professional qualifications.
CELPIP-General and CELPIP-General LS are the two versions available. CELPIP-General is for people who are applying for permanent resident status and need verification of their English language skills. CELPIP-General and the International English Language Testing System (IELTS) General Training Test are two recognised English language assessments by Immigration, Refugees and Citizenship Canada (IRCC). The CELPIP-General LS test is for those who need to prove their listening and speaking skills in order to become Canadian citizens. It is one of only two recognised English language tests for Canadian citizenship by the IRCC.
CELPIP is a totally computer-based exam, which is a significant distinction between the two exams. Both exams are administered electronically. On the other hand, the Reading, Writing, and Listening segments of the IELTS all take place on paper, while the Speaking portion is performed in person.
IELTS :- IELTS is a test that is used for school, work, and immigration. It distinguishes between British and American English in terms of spelling, word choice, and syntax, and employs a blend of native speaker accents throughout the test. IELTS is a test that is offered in over 140 countries and is separated into two categories: Academic (for use in schools) and General Training (for use in the workplace) (used for migration to an English-speaking country). The IELTS General Training test is essential if you are taking IELTS to apply for Express Entry in IELTS Classes Edmonton.
Although the CELPIP is developed for Canadian English and the IELTS Academic test is designed for British English, both examinations accept American and British English spelling and grammar.
There are also differences in the scoring. Each section of CELPIP has a score ranging from 1 to 12, which corresponds to the Canadian Language Benchmark (CLB). There are 9 segments in the IELTS Academic test, and all of them have a score between 1 and 9.
To respond to the CELPIP versus IELTS question, you must first comprehend how the two examinations differ in each of the four components. Let's take a look at what we've got.
Listening
This CELPIP Listening takes 47-55 minutes to complete and consists of the following components:
A practice task (1 question)
Listening to problem solving (8 questions)
Listening to an everyday conversation (5 questions)
Listening for information (6 questions)
Listening to the news (5 questions)
Listening to a discussion (8 questions)
Listening to opinions (6 questions)
IELTS Listening takes 30 minutes, and includes the following:
An everyday conversation
A monologue in a social context
The context of an educational or professional conversation
A monologue on an academic subject
Reading
The CELPIP Reading takes 55-60 minutes and consists of the following components:
A practice task (1 question)
Reading correspondence (11 questions)
Reading and diagrams (8 questions)
Reading for information (9 questions)
Reading for opinions (10 questions)
The IELTS General Reading section lasts an hour and consists of the following components:
Understanding basic informational writings
understanding workplace materials such as a job description
understanding comprehensive texts such as instructions or fiction
Writing
The CELPIP Writing is 53-60 minutes long and includes:
Writing an email (1 task)
Responding to a survey (1 task)
The General Writing section of the IELTS exam lasts an hour and consists of two tasks
Writing a formal or semi-formal letter
responding to a situation with an essay
Speaking
for CELPIP lasts about 15-20 minutes and involves:
A practice task
Giving advice
Talking about something personal
Describing a scene
Making a prediction
Making comparisons and persuading
Difficult situations
Expressing opinions
Unusual situations
You will have 11-14 minutes to complete the Speaking section of the IELTS test.
Respond to general questions on familiar topics
Speak about a particular topic
Respond to more abstract questions on your topic
There is no discernible difference between the CELPIP and IELTS in terms of difficulty. Both tests are difficult and necessitate a strong command of the English language as well as much preparation.
The following should be your primary considerations while deciding between the two: Which one of the two test methods do I think will be more useful?
Which test will be more useful in my future profession or studies?
Unique Academy Canada is here to help you on the selection for Academic for IELTS between the two as per your preference for your future. The program provides you with expert feedback, so that you can improve the areas that you need to improve on to become a better IELTS candidate.